Statistics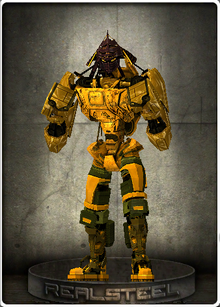 Armor: 45/100
Power: 80/100
Speed: 90/100
Interlligence: 80/100
Special: 60/100
Total: 375/500
Nickname: "The Yellow One"
Handler/Owner: Emily Cruz
Height: 7'4 Ft
Weight: 900 Lbs
Bot Type: Blitz Cannon, Level 5
Generation 3
Origin
Emily Cruz bought this robot from an unknown location 2 years ago. She has learned to control her bot well. The main reason Emily bought this was because she heard Raymond was becoming a robot boxing legend my the second. For her, it was the only way she felt she had a connection with him.
Ad blocker interference detected!
Wikia is a free-to-use site that makes money from advertising. We have a modified experience for viewers using ad blockers

Wikia is not accessible if you've made further modifications. Remove the custom ad blocker rule(s) and the page will load as expected.