Please note, that this is a fanfictional robot and is NOT canon. Don't edit other pages with the info here, because I don't wanna get in trouble.
Theme Song:
☀https://www.youtube.com/watch?v=i5jPy-GmyUc
Chinzaemon is TheLastOfficial's fanfic rebuild of the beloved Noisy Boy. Manned by Charlie and Max Kenton, this robot faced against many tough opponents, from Gambit to Sarge and even to Twister. Here are its stats.
SPEED: 99/100
POWER: 74/100
ARMOR: 83/100
INTELLIGENCE: 78/100
SPECIAL: 90/100
OVERALL: 424/500
SPECIAL MOVES: One Man Sutoraikuchīmu, Wakizashi Straight, Shogun Trinity and Wing Chun.
FIGHTING RECORD
30 wins - 5 losses
Best Match: Chinzaemon VS Olympus (A.K.O 3 of 5)
Worst Match: Chinzaemon VS Abandon (K.O 2 of 5)
Upcoming Match: Unknown, will decide later.
All Matches, from first to last:
Chinzaemon VS Gridlock (WIN: K.O 4 of 5) Earnings: $43k
Chinzaemon VS Shinobi (WIN: SPLIT DECISION) Earnings: $50k
Chinzaemon VS Albino (WIN: K.O FIRST ROUND) Earnings: $75k (life in the fast lane, :D)
Chinzaemon VS Cardinal Chaos (WIN: UNANIMOUS DECISION) Earnings: $32k
Chinzaemon VS Rook [Rook is one of my custom bots] (WIN: K.O 5 of 5) Earnings: $235k (ka-CHING!)
Chinzaemon VS Excavator (WIN A.K.O 5 of 5) Earnings: $99k, along with Excavator's head.
Chinzaemon VS Cardinal Chaos REMATCH (LOSS: SPLIT DECISION) Decrease: -$31k
Chinzaemon VS Danger Zone (WIN: SPLIT DECISION) Earnings: $25k
Chinzaemon VS Shogun (WIN: FORFEIT) Earnings: $150k (that's what you get when they forfeit...)
Chinzaemon VS Slingshot (WIN: K.O 1st of 5) Earnings: None (it was an exhibition match).
Chinzaemon VS Camelot (LOSS: UNANIMOUS DECISION) Decrease: -$80k
Chinzaemon VS Gambit (WIN: K.O 3 of 5) Earnings: $100k
Chinzaemon VS Camelot REMATCH (WIN: K.O 5 of 5) Earnings: $75k
Chinzaemon VS Cosmobot (WIN: A.K.O 3 of 5) Earnings: $100k and Cosmobot's arms
Chinzaemon VS SyncShock (WIN: K.O 1 of 5) Earnings: $65k
Chinzaemon VS Copybot (WIN: K.O 1 of 5) Earnings: $35k
Chinzaemon VS Exo [My friend's bot] (WIN: UNANIMOUS DECISION) Earnings: $69k
Chinzaemon VS Blac Jac (WIN: SPLIT DECISION) Earnings: $125k
Chinzaemon VS Abandon (LOSS: K.O 2 of 5) Decrease $150k (r.i.p)
Chinzaemon VS Zeus [For the Blue title in the WRB] (WIN: UNANIMOUS DECISION) Earnings: $256k
Chinzaemon VS Olympus [For the Red title in the WRB] (WIN: A.K.O 3 of 5) Earnings: $560k, with Olympus' head.
Chinzaemon VS Cyclone [Defending the Red & Blue titles] (WIN: K.O 1 of 5) Earnings: $290k
Chinzaemon VS Abandon [For the Gold (Highest Belt) title] (WIN: K.O 5 of 5) Earnings: $1.1 million (WOOHOO)!
Chinzaemon VS Twister [Defending all titles] (WIN: K.O 5 of 5) Earnings: $503k
Chinzaemon VS The Sarge [Defending all titles] (WIN: SPLIT DECISION) Earnings: $356k
Chinzaemon VS Fiend [Defending all titles] (WIN: A.K.O 1 of 5) Earnings: $800k, with Fiend's arms & head.
Chinzaemon VS Diablo [Defending all titles] (WIN: K.O 3 of 5) Earnings: $734k
Chinzaemon VS Voodoo [Exhibition Match] (WIN: K.O 1 of 3) Earnings: None
Chinzaemon VS Zeus REMATCH [Defending all titles] (WIN: K.O 1 of 5)
Chinzaemon VS Twister REMATCH [Defending all titles] (LOSS: K.O 4 of 5) Decrease: $250k AND the Gold Belt (Still has the Red and Blue ones though).
Chinzaemon VS TripleG (Another of my custom bots) (WIN: UNANIMOUS DECISION) Earnings: $499k
Chinzaemon VS Ragnorak (WIN: K.O 5 of 5) Earnings: $100k
Chinzaemon VS Thanatos (LOSS: UNANIMOUS DECISION) Earnings: None
HISTORY AND FACTS + STORY
Origin: Japan-USA
Chinzaemon is a rebuilt, buffed up Noisy Boy made by Charlie and Max Kenton. Some of the parts are Axelrod's parts, simply modified to cooperate with the fast programming of the original Noisy Boy. With help from professionals such as Mark Hedhon and Nitro's manufacturers, the Kenton's were able to modify Noisy Boy's programming into a sophisticated, complex system which allowed Chinzaemon to throw punches significantly faster. The move 'Shogun Trinity' was replaced with a variant called 'One-Man Sutoraikuchīmu', a move where Chinzaemon throws 6 hooks to the body, then charges up for an uppercut to the FACE. Another new move put into Chin's programming is Wing Chun, a move based on the martial art with the same name. For this move to work, the enemy has to start a combo. When Chinzaemon recognizes the attacks, he successfully blocks the attack, while at the exact same time performs a punch (or kick) appropriate for the situation.
Beginnings
After winning many bouts with the rebuilt Noisy Boy (link here: http://realsteel.wikia.com/wiki/Noisy_Boy_Rebuilt_(Fan_Story) ), Max Kenton had the brilliant idea to use parts and programming from Charlie's other robots Ambush 2.0 and Atom to create a new face and identity of Noisy Boy. Soon, the classic samurai warrior turned into a completely refurnished (and well polished) potential WRB champion. When deciding on a new name, Charlie was baffled. Until Max read this story called Chinzaemon The Silent...
"Hey Charlie!"
"What, Max?"
"I think I've found a perfect name for him!"
"So what's the name?"
"CHINZAEMON!"
Charlie kinda liked the name Max gave his new robot. Having also read the story, Charlie agreed and officially named Chinzaemon.
When Charlie and Max showed Finn their new robot, Finn exclaimed. "WOW! He looks radically smooth. What's his name?"
"His name's Chinzaemon." Max replied. "Named after a Japanese swordsman with the same name, Chinzaemon the Silent".
"Sooooo, if Chinzaemon is silent and the heir of Noisy Boy," Finn suggested, "then the nickname should be 'The Loud Whisperer'. Like it?"
All of them agreed. There's got to be some Noisy in Chinzaemon.
After the final programming edits on Chinzaemon, Charlie and Max took to the WRB Challenge Center to set their first bout. They ended up fighting Gridlock, who was on a triple-win streak, at Staples Arena. Both Max and Charlie were so excited and energized for the match, they ran joyfully out the door and started prepping up.
THE FIRST MATCH
As Charlie and Max entered Staples Arena, the intense heat started to fall on them. After winning several fights with the Rebuilt Noisy Boy, and being top contenders for the Gold title with Atom, the pressure was on for the duo. Many people came to see the new bot in town. Even Tak Mashido got himself tickets to see the bout. Almost everyone in the crowd was expectant of Chinzaemon's new capabilities.
ROUND 1!
The two robots started nearing each other. Then, out of the blue, Chinzaemon threw 6 hooks to the body. Gridlock was able to block them all, but what was coming next was wasn't nice to the arms. After that, Chinzaemon charged up quickly for his new move - One Man Sutoraikuchīmu. Despite having average speed, Gridlock's intelligence couldn't stand a chance against the move, and down Gridlock went. After he got up, Gridlock kept getting pummeled by Chin, Round after round Chinzaemon kept going full speed ahead, never taking breaks, always punching something.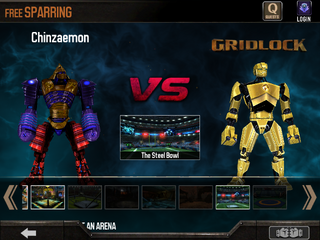 Then, Round 4 came. Though it was clear that Chinzaemon wasn't stopping his performance anytime soon, people began to worry if Chinzaemon actually had the ability to knock a bot cold. Those worries were soon gone, because when Gridlock finally managed to start a combo, Chinzaemon used Wing Chun, and left Grid in the dust.
The referee started counting. "1! 2! 3! 4! 5! 6! 7, 8, 9, 10!!!"
It was OVER! Chinzaemon won his first match in style. "WE DID IT CHARLIE!" "YEAH!"
HERE COMES ROOK!
After the match against Gridlock, Charlie and Max booked their next match against Shinobi. It was a close match, both throwing big punches. The match ended in a split decision, a worthy win for the new samurai. Following up Shinobi were challengers Albino and Cardinal Chaos. The match against Albino was pretty easy, and Cardinal was rarely a challenge.
Then came Rook, a former Gold title holder in the WRB. Despite his aging status, Rook was still one of the kings in robot boxing. Being challenged by the Chess Giant, Charlie and Max weren't sure if they could hold on. However, the price for winning was big, and Chinzaemon could prove his worth. So, Charlie accepted the offer to fight.
When they arrived at MGM Grand, a LOT of reporters were crowding Chin and the duo. Many were expecting a good match from both of the fighters. Rook, holding a ten win streak despite retiring soon, was looking out for a bot worthy of ending his retirement streak. Now he's found one!
Let's GO!
Finally, the fight started. Rook landed first, a clean jab and cross to the face. Chinzaemon tried doing the same, but Rook weaved the moves and right-hooked Chinzaemon in the body. Rook did an uppercut which sent Chinzaemon to the ropes. "Uh-oh." Charlie said as Rook approached Chinzaemon. Rook, being a game breaker near the ropes, was lethal to ANYONE that got caught in the lines. 3 seconds later and Rook was already annihilating Chinzaemon's body and head. However, Chin recognized the Blitz Cannon's combos and started to defend more successfully against the moves. Soon, Chinzaemon was able to escape the ropes and Wakizashi-punched Rook in the face. Now Rook was in the ropes!
For the next three rounds Chinzaemon and Rook kept by the ropes. Both getting a taste of each other's paint, the fighters started losing speed and agility due to overflowing commands in their system.
Until Round 5, where one robot had to make the act count. That robot was Chinzaemon, as he weaved and ducked his way through the punches and low sweeps of Rook. Time after time Rook would get denied a opening move to any of his combos. Finally, the chance came. Rook got so tired that he was acting unusual, sometimes Rook would even stop moving. Chinzaemon took the advantage by going low, hook after hook after hook. Then Chinzaemon Wakizashi-punched Rook in the face, leaving Rook stunned. Finally came the finishing blow - the Shogun Trinity!
The crowd cheered as the former champion went down. "1! 2! 3! 4! 5! 6! 7! 8! 9! AND 10!!!"
"WE DID IT CHARLIE!!!!!!!"
"YEAH!!!"
One and DONE!
Soon, Chinzaemon was receiving LOTS of new challenges. His popularity sprung high due to that match. Although having a few bumps with Cardinal Chaos, Chin was able to keep his chin up (bad pun) by adding an epic A.K.O to his win list (against Excavator). As Chinzaemon was drilling through the records, people were starting to back away from the lethal swordsman. Even Shogun, a fierce bot, forfeited due to fear of becoming beheaded by the Loud Whisperer.
After winning more than a couple matches, Charlie and Max received a mysterious letter inviting them to Crash Palace. So, they went inside and saw the robot SlingShot, a robot famous for winning against Nitro. The owner of SlingShot walked over to them and said. "Prepare for Chinzaemon's head to be destroyed!" Though Max was a bit frightened, Charlie assured him that this would be over quickly.
Round One, and done. :P
Chinzaemon and SlingShot started throwing punches. Instantly, Chinzaemon threw 6 hooks to the body. SlingShot's torso already started to falter, so Chin kept punching there. In only 15 punches, SlingShot was facing major damages. Chinzaemon prepared his Shogun Trinity, and SlingShot went DOWN!
The referee called SlingShot a goner. Chinzaemon had won his bout in under 2 minutes! (A world record)
Road to The Gold Title
After winning against Blac Jac, Gambit and CosmoBot, it was time for Charlie and Max to chase the Gold Title.
A Bad Start
Unfortunately, their preparation match didn't fare well. Abandon, completely glassed Chinzaemon and left him in the dust in 2 rounds. Despite being a very swift bot, Chinzaemon couldn't defend against the unconventional moves of Abandon, which went on to get the Gold Title himself. Charlie and Max feared if Chin's status as a professional bot was faltered.
It wasn't.
Zeus' Challenge
Despite losing pretty quickly to Abandon, Chinzaemon still received battle requests. Zeus' one was the most interesting, because Tak Mashido claimed that if they didn't fight Zeus right now. Charlie and Max (and Chinzaemon) would be cowards forever. So, not wanting to ruin more of their image, Charlie Kenton had to agree with the fight terms. Zeus was a WRB title holder.
The Swordsman VS The Greek God
The two started engaging by throwing simple jabs and hooks. Then, out of the blue. Zeus charged up his Nitrous Pistons as an attempt to annihilate Chinzaemon. Chinzaemon didn't have much trouble with that, because he slid away from the pistons and countered with a Pain Revolution. Chinzaemon kept going with 6 hooks to the body and two punches to the face. Zeus blocked several of the counters and replied back with his arsenal. Cornering Chinzaemon, Zeus did his 'Double Duty' work and kept on smashing Chin until the bell rang. DING DING! The round was over.
Greek Gods aren't immortal...
During the next few rounds, the fight conditions were slowly getting better for Chinzaemon and his controllers, as Zeus was getting tired of throwing combo after combo. Chinzaemon was gradually getting out of his shell (the corner) and started throwing more and more punches to get in the mood.
Finally, it was Round 5. The last round to annihilate, Tak Mashido wanted to make this fight glorious to Zeus. So, he instructed Zeus and his controllers to go for the A.K.O. Zeus looked well in the first minute, punching Chinzaemon hard. But, Zeus was getting slower and slower. Soon, Zeus was just as slow as Metro. Charlie and Max took advantage of this by doing 6 hooks to the body as usual. But instead of using One Man Sutoraikuchīmu, Chinzaemon started another 6 hook combo, but to the head. Zeus started featuring major damages. Then Chinzaemon Wakisashi-Punched Zeus, leaving Zeus stunned. Then, the final combo move came, the UPPERCUT! Zeus finally got down. "1! 2! 3! 4! 5! 6! 7! 8! 9!" Zeus got back up, but only to fall back down again. "1! 2! 3! 4! 5! 6! 7, 8, 9..." DING DING! The round was over. Zeus was saved by the bell!
The announcer got into the stage, as well as the mass amount of reporters. Soon, it was time for the announcer to announce the winner.
"Judge 1 gives a rating of 48 to 47. Judge 2 gives a rating of 47-45. Judge 3 gives a rating of 49-46."
"The winner, by unanimous decision, is the NEW WRB blue belt champion of the world... IT'S CHINZAEMON!"
"YES!!!"
"CHINZAEMON YOU DID IT!"
The crowd started cheering Chinzaemon's name. Now, Chinzaemon's name got printed into the Hall of Champions. It was a fight no one would forget.
Climbing Mount Olympus
It was now time for Charlie and Max to chase down the Red title. Facing Olympus, a strong and bulky fighter who beat Blac Jac, Charlie knew Chinzaemon had to come up with a new strategy. The stakes were high for the match.
Olympus, the Sumo Annihilator
It was time to get in the ring. Chinzaemon scored the first hits, a simple 1-2 combo. Olympus wasn't affected by those attacks and went all out, throwing the big punches early in the game. Chinzaemon was able to dodge some of the attacks, but got hammered by a ferocious right hook. "Crap..." Charlie Kenton knew what was going to happen, and it wasn't good. Chinzaemon got pushed into the corner, the perfect spot for Olympus to truly demolish. "Charlie, DO SOMETHING!!!" Max was screaming at his father to get Chinzaemon out of the corner. Olympus kept on destroying Chinzaemon, from left to right, and didn't look like stopping. Chinzaemon's armor slowly began to fade. DING DING! Finally, the round was over!
PAY WHAT YOU OWE.
In the next round, Olympus was going hard (like always). Chinzaemon, however, tried to counter back with a nice strike to the head. Olympus didn't block it in time, leaving him stunned. This was the perfect opportunity to strike forward. Chinzaemon started winding the clock to his time. He threw a left hook. Olympus tried to reply but Chinzaemon did a back step. Chinzaemon kept going full force and started throwing 6 hooks to the body. Despite having big armor, Olympus was still receiving major damages. DING DING! The second round was over.
Till' the Lights Go Out
The third round began. Olympus threw first, but Chinzaemon easily dodged the attack. Chin started going to the head, but Olympus blocked the attacks with little effort. No matter how fast Chinzaemon punched, Olympus would always stay covered up. Then, Charlie recognized something. Because Olympus started losing his agility and speed, his punches wouldn't cause much impact, unlike Round One. This was another great opportunity to win the match. So, Charlie commanded Chinzaemon to just stand there, in the center of the arena. Olympus was confused, so he decided to start a combo. That wasn't a good choice for Olympus, though. Chinzaemon used Wing Chun and left Olympus in HIS corner. Mocking the big brawler's play style, Chinzaemon kept punching full force. Olympus was stumped! Then, the final ingredient came - the Wakazashi Straight. Olympus' head was popped off in a jiffy. Chinzaemon had gotten the Red Title!
"YES!!!!!!!!"
"WE DID IT!!!"
"WE ARE THE CHAMPIONS!!!!!!!!"
Abandoning Abandon
Now, Chinzaemon held two WRB titles. After defeating Cyclone easily, Chinzaemon now focused on the Gold Title. The problem? Abandon was holding that title. Charlie and Max didn't really know if they could get past the Ice Breaker (Abandon beat Chinzaemon badly). Still, they couldn't just simply wait until Abandon retires. So, with nothing else to do. Charlie challenged Abandon.
Chinzaemon won!
The Twister Saga
Now, after an amazing upset against Abandon, Chinzaemon now held all titles. Now the King of The Ring, Chinzaemon would surely get a LOT of fight requests. One of them was from the legend Twister, who could be a menace on the ring.
When Charlie and Max saw the request, they weren't at ease. Charlie knew about Twister's infamous whirlwind mode, but he didn't know if Chinzaemon was capable enough to endure that. However, a true champion never gives up, so they accepted the match request and went over to the Challenge Center to get more details.
As they were walking to the Center, they saw Raymond Santiago, owner of Twister. "Hey, uh, Raymond was it? Uh, well, Max and I would like to go against your bot, Twister."
"Great! I'll see you at Bing Arena, 8:45 PM! EVERYONE is gonna watch this match!"
CHINZAEMON VS TWISTER: EDITION 1
Charlie and Max were getting pumped for this match. If they could get past Twister, they could beat any robot in town. DING DING! The match started. Chinzaemon started with 6 low hooks to the body. Twister replied back with a 1-2 counter to the face. Then, Twister did a 5 punch combo. Chinzaemon tried to block the attacks but couldn't manage in the end. Twister kept striking with multiple punches and combos. After that, Twister started executing the Tornado Palm. Chinzaemon, however, stimulated his focus and dodged the move just in time. Then, Chinzaemon replied with a Gravity Slam Uptown combo. Now Chinzaemon was doing the damage. DING DING! The round was over.
Combo Breakers: Round 2, 3 and 4
The punches just kept on going. Chinzaemon and Twister brought every combo and move from their arsenal. Both received major damages each round, and were getting tired.
Twister Gets Twisted
Finally, the last round came. Charlie and Max knew this was their last chance of getting a win. DING DING! The round started. Chinzaemon threw first with a 1-2 combo. Twister tried to reply with a Tornado Palm, but Chinzaemon recognized the attack and kept fighting full force. Twister was able to land a cross but couldn't start a combo. However, Charlie started to recognize something. Chinzaemon won't get the knockout if he kept on brawling like this. So, he made Chinzaemon imitate a tired state. Twister, confused, prepared his Southpaw Pain Revolution. But Chinzaemon blocked the attack, and at the exact same time performed a left hook to leave Twister stunned. Chinzaemon did his usual ritual - 6 hooks to the body. Finally, he prepared his One Man Sutoraikuchīmu, leaving Twister on the GROUND!
Many cheers and shouts got even louder when Twister went down. The referee started the count.
"ONE! TWO! THREE! FOUR! FIVE! SIX! SEVEN! EIGHT! NINE AND TEN!!!!"
"WE ARE REIGNING CHAMPIONS!"
"YEAH!!!!!!"
Can You Beat Him Again?
Right after that match Chinzaemon went on a killstreak. He annihilated every bot he faced, from Fiend to The Sarge. Chinzaemon even wrecked the heck out of Zeus in a rematch! So, it was surprising to Charlie and Max that Twister actually wanted another go at Chin.
So, Charlie and Max reluctantly accepted the match and went over to MGM Grand to duke it out.
Round One:
I'm in a big writer's block, so I won't be editing much of Chinzaemon currently.
When I'm done this chapter you'll know I'm back.
End Chapter: New Owner
It was time to let Chinzaemon go.
Charlie and Max were ready to make another champion fighter, ShockTrooper. Wanting to get early funding, they sold Chinzaemon for $2,000,000 dollars to an experienced robot handler, named Vinzer Kakashi.
"Take good care of him, will you?" said Max.
"I promise, I will." replied Kakashi.
Back Into The WRB: A New Chapter
After Charlie and Max Kenton gave away Chinzaemon, Kakashi worked on using his techniques and unique skills. Very soon, Kakashi challenged Thanatos to a battle. Keiichi, not knowing who Kakashi was, accepted briskly.
The Global Mech Entry
WORKIN ON IT
Ad blocker interference detected!
Wikia is a free-to-use site that makes money from advertising. We have a modified experience for viewers using ad blockers

Wikia is not accessible if you've made further modifications. Remove the custom ad blocker rule(s) and the page will load as expected.