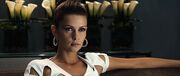 Farra Lemkova was Tak Mashido's beautiful Russian partner. She attempted to buy Atom from Charlie and Max by offering $200,000 for the bot. While her father, Sergei was the money and Tak was the creator behind Zeus, Farra struck fear across her opponents and at the same time beauty.
History
She helped Tak Mashido in the robot boxing business. Her and Tak's robot was Zeus, the undefeated robot champion. She attempted to buy Atom from Charlie and Max. However, Max refused and defeated Twin Cities shortly afterward, at which point he proceeded to taunt Farra, earning her disdain. She later attended the fight between Zeus and Atom, and boasted that Zeus remained undefeated after the match (although she was clearly embarassed at the match as Atom would obviously have beaten Zeus if the match hadn't ended when it did). Zeus was knocked out a few seconds after the round ended. 
Appearance
Lemkova is a very pretty young woman who has dark-brown hair, worn in a ponytail and wears tight fitting designer dresses. In the Real Steel WRB game, she has red hair.
Ad blocker interference detected!
Wikia is a free-to-use site that makes money from advertising. We have a modified experience for viewers using ad blockers

Wikia is not accessible if you've made further modifications. Remove the custom ad blocker rule(s) and the page will load as expected.