Fluxcore

Cube head...
Vital statistics
Title
None
Generation
2 or 3
Bot Type
Lightning Bruiser
Status
Working
NAME: Flux Core
GENERATION: 2/3
BOT TYPE: Lightining Bruiser Level 3
RANKING: U:3:4
Information
Nothing official is known about this bot, but judging by his name and build, he was involved with the manufacture of other bots. Possibly, he is similar to Toolbox, in that he was the mascot for a manufacturing plant. As far as his style, Fluxcore is another big bruiser. He corners his enemies and beats them to pieces.
Appearance
Fluxcore has the appearance of an alien with a very boxy build. His frame is based on the box-base set of parts. He also has the color of mint chocolate.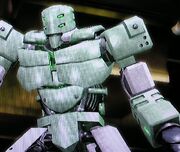 If you look at Atom's body from the side, it looks like Fluxcore's.
Stats
Strength: 58/100
Speed: 23/100
Intelligence: 42/100
Special Moves: 49/100
Specialties: None
Trivia
Fluxcore is just one of the many bots considered "lightning bruisers."
His coloration is similar to mint chocolate chip.
Ad blocker interference detected!
Wikia is a free-to-use site that makes money from advertising. We have a modified experience for viewers using ad blockers

Wikia is not accessible if you've made further modifications. Remove the custom ad blocker rule(s) and the page will load as expected.