Purpose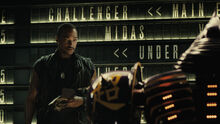 FFA-VS (Formerly EVote) is designed to decide the winner in Custom Bot fights, by asking the users of the wiki who will
win.
How-To
1.Winning/Losing: More/Less then other opponent & draw
2.Drawing: Same-Same for both bots or Draw is most
3.Polls stay for one week!
Current Votes
Annihilator vs Total Speed
KnuckleDuster VS Flathead
Knightfall vs Amalgamera - Avoiding draws.
Ravagor vs Thanatos - I know DaRKSagE, we never planned this but I kinda want to know the results!
(P.S IDKJek was here)
Ravagor vs Shredder (EARLY RESULTS PLEASE)
Ad blocker interference detected!
Wikia is a free-to-use site that makes money from advertising. We have a modified experience for viewers using ad blockers

Wikia is not accessible if you've made further modifications. Remove the custom ad blocker rule(s) and the page will load as expected.