So, what is this?
This vehicle was a lottery prize given to Kakashi during his time at the WRB Morocco exhibition. At first it was only a normal Nissan 350z, but he modified it to be a four-wheel drive lit car that was fun to drive. Kakashi uses this car when he delivers small robot parts, goes to WRB matches, drives over to Global Mech HQ and so on.
Horsepower: 510
Torque: 521
Parts And Mods
Impulse Drivetrain
Custom Engine
Impulse Tires
Custom Supercharger
Tsuchiya Drift Calipers
Tsuchiya Drift Suspension
Videoxx TV
Videoxx Console
Videoxx MP3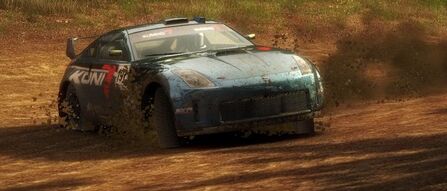 Ad blocker interference detected!
Wikia is a free-to-use site that makes money from advertising. We have a modified experience for viewers using ad blockers

Wikia is not accessible if you've made further modifications. Remove the custom ad blocker rule(s) and the page will load as expected.