Name:King Tut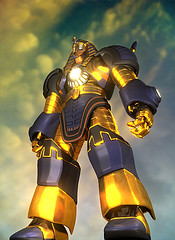 Nickname:Pharaoh of all Bots
Special Move:Scarabs Curse
Special Feature:Solid Gold Plating
Made in:Egypt
Special:98/100
Power:75/100
Strength:99/100
Speed:31/100
Armor:100/100
Owner:Flynn McHuldier
Origin
Flynn went to Egypt where he took a Selfie with the Pyramids in the Background and also the Sphinx as Well,so Flynn Went Cairo Where he bought a fez and a Robot named King Tut,Flynn checked the sign for Robot Boxing Stating that there are no Information About an Egyptian Underworld where he took a plane and Flew King Tut to Canada where he needs testing.
Ad blocker interference detected!
Wikia is a free-to-use site that makes money from advertising. We have a modified experience for viewers using ad blockers

Wikia is not accessible if you've made further modifications. Remove the custom ad blocker rule(s) and the page will load as expected.