Name:Mech-A-Claus
Nickname:The Christmas Crusher
Special Feature:Jolly-Tanium Armor
Special Move:Ho,Ho,Ho
Power:200/200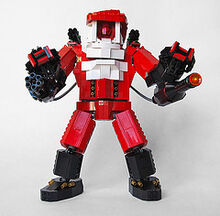 Armor:200/200
Special:200/200
Speed:120/200
Intelligence:200/200
Owner:Nick Claus(aka Santa)
Origin
Built by Nicholas Claus(Santa) it was designed to take hits and fully powered stats,Custom Made in North Pole,Nick saw his elves battling with robots so they built one just for Nick and only Nick and so the Mech-A-Claus was Born
Notes
This is the first christmas bot
You CAN ONLY FIGHT HIM ON 14 TO 28TH OF DECEMBER EVERY YEAR!
From 14 to 20 Prize 20.000.000$ and 21 to 28 100.000.000.00 with  an Exclusive Bot ???
And a Rare Controller the ???? On 27 of December It is A Giveaway
This Event Has Already Been Expired which Means December of Next Year you Can Fight Him
Ad blocker interference detected!
Wikia is a free-to-use site that makes money from advertising. We have a modified experience for viewers using ad blockers

Wikia is not accessible if you've made further modifications. Remove the custom ad blocker rule(s) and the page will load as expected.