Orefist

Me, Orefist. Me, CRUSH!
Vital statistics
Title
None
Generation
2
Bot Type
Brawler
Status
Working
NAME: Orefist
GENERATION: 2
BOT TYPE: Brawler
RANKING: U:3:3
Information
Orefist greatly resembles Scrapbot in appearance. This robot is a pretty tough fight. As a mining mech, he is quite brutal and will shrug off most light blows. He corners his enemies and crushes them,  just like Fluxcore.
Appearance
Orefist has the same head as
Scrapbot
, but in desert camoflauge colors. He also has desert camo patterns on his chest and arms, and his hands are mufflefists, round balls with spikes on them.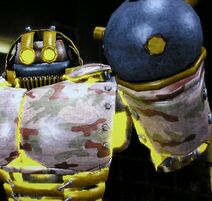 Stats
Strength: 60/100
Speed: 29/100
Intelligence: 48/100
Special Moves: 51/100
Specialties: None
Trivia
Orefist is basicly a Scrapbot 2.0
Ad blocker interference detected!
Wikia is a free-to-use site that makes money from advertising. We have a modified experience for viewers using ad blockers

Wikia is not accessible if you've made further modifications. Remove the custom ad blocker rule(s) and the page will load as expected.