Ad blocker interference detected!
Wikia is a free-to-use site that makes money from advertising. We have a modified experience for viewers using ad blockers

Wikia is not accessible if you've made further modifications. Remove the custom ad blocker rule(s) and the page will load as expected.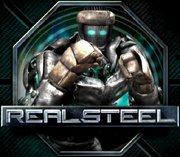 Real Steel
is a video game produced by Yuke Inc. It is a side-scrolling boxing game, consisting of five stages. Two of the stages are WRB and three are Underworld, where your custom-made robot will fight four robots per stage. It is important to note that its only for PlayStation 3 and Xbox 360, and is only downloadable.
Leaderboards
Underworld Stage 1
Skar - One 10 minute round instead of five 2 minute rounds.
Unknown (your bot)
Underworld Stage 2
IDA-TEN- Ten one minute rounds
Unknown (your bot)
Underworld Stage 3
Orefist - Seven 1-minute rounds
Fluxcore - One 10 minute round
Unknown (your bot)
WRB Stage 1
Unknown (your bot)
WRB Stage 2
Unknown (your bot)
DLC Stage 1
Ambush
Vespula
Fusion
Scorpio
Unknown (your bot)
DLC Stage 2
Tripitaka
Sun Wukong
Shagojoyo
Pigsy
Unknown (your bot)
DLC Stage 3
Palladius
Hylas
Numbskull
Ashra
Unknown (your bot)
User Made Robots
Clash of steel