Real Steel World Robot Boxing
Comments

12
309pages on
this wiki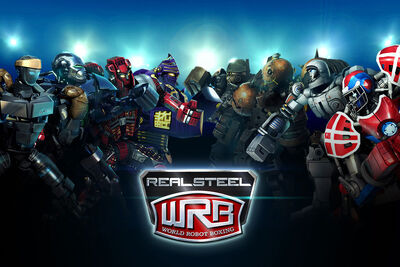 Real Steel WRB is a game for iphone and android base on the movie Real Steel that was made by Reliance Games.
Description
Edit
Real Steel World Robot Boxing packs bigger punches, harder-hitting battles, and doubles the action of its processer. See the mighty Zeus like you've never seen him before with new HD visuals. Challenge new chrome contenders such as Bio War and Hollowjack with fan favourites Atom and Noisy Boy, or take on your friends head-to-head with epic multiplayer action!
A total of 24 mean machines, including fan favourite superstars such as Zeus, Atom and Twin Cities. Now eight new contenders have entered the ring: Brawl as Touchdown, Hollowjack, Blockbuster, Bio War and more!
Championship, Time Attack, and Free Sparring three new diverse modes that will test your mettle and your metal
Bigger, better and now social! Take on friends in live local Wi-Fi multiplayer and fight your way up the leaderboards!
Paint Shop is currently Under Construction!
Stack your bot collection with the new mystery card game and test your luck.
New Appearance for the last two robots after upgrading in every Tier.
Online Multiplayer is now available. Challenge a person online.
Robots abilities
Edit
Corrosive Fists: Succesful hits apply a corrosive acid, dealing damage over time.
Power Drain: Succesful hits reduce the opponent's Special Move bar.
Reconstruction: Provides Passive Health Regeneration in battle.
Steel Bulwark: Succesful blocks reduce damage of opponent's Heavy Moves.
Show Stopper:​ Special Move cannot be blocked by opponent.
Swift Strikes: Light Attacks deal more damage.
"Note: These abilities are only applied to the last two bots of every Tier."
Latest Updates:
'''''''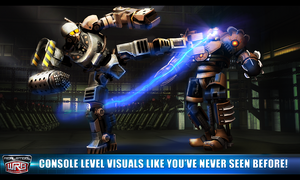 '''''''
"Console Level Visuals Like You've Never Seen Before!"
​Play the game with better graphics and effects.
''''
''''
"Add Metal To Your Robots! Improve HPS, Improve Looks!"
​Stage 3 and Stage 7 Armors has been added to the last 2 bots of each Tier. Upgrade your robot to equip armor.

Previous Updates: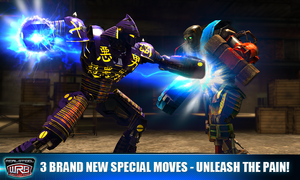 ''''"3/Three Brand New Special Moves - Unleash The Pain!"
'​'​Three new moves are added to every robots. The more the special meter points is filled up,The more power your robot can unleash.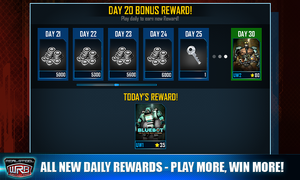 All New Daily Award - Play more, Win more"
​This feature lets you win a reward if you play daily. This is another way to get Bluebot, Aquabot and Axelrod. The description below lets you know how many days it takes to earn this bots.
Bluebot - 20 days of playing continuously
Aquabot - 30 days of playing continuously
Axelrod - 40 days of playing continuously
Featured robots
Edit
Underworld I
Underworld II
World Robot Boxing I
World Robot Boxing II
One of Zeus's skins are iron man skin classic armor along with Gridlock (Mark IV) and Fat Boy (Mark XLII).
Although the nicknames of the new 'bots aren't written, in their intro you can probably hear their nickname being called.
Official Trailer
Edit