Real Steel World Robot Boxing
Comments

26
349pages on
this wiki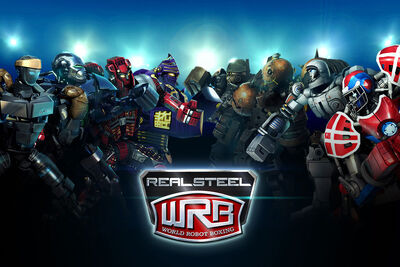 Real Steel WRB is a game for iphone and android base on the movie Real Steel that was made by Reliance Games.
Information
Edit
Real Steel World Robot Boxing packs bigger punches, harder-hitting battles, and doubles the action of its processor. See the mighty Zeus like you've never seen him before with new HD visuals. Challenge new chrome contenders such as Bio War and Hollowjack with fan favorites Atom and Noisy Boy, or take on your friends head-to-head with epic multiplayer action!
A total of 24 mean machines, including fan favorite superstars such as Zeus, Atom and Twin Cities. Now eight new contenders have entered the ring: Brawl as Touchdown, Hollowjack, Blockbuster, Bio War and more!
Championship, Time Attack, and Free Sparring three new diverse modes that will test your mettle and your metal.
Championship is back. Make all your robots champions!
Bigger, better and now social! Take on friends in live local WiFi multiplayer and fight your way up the leaderboards!
Play Daily to receive a reward in the Daily Awards.
Paint Shop is now improved and available.
Stack your bot collection with the new mystery card game and test your luck.
New Appearance for the last two robots after upgrading in every Tier.
Online Multiplayer is now available. Challenge a person online.
Robots abilities
Edit
Corrosive Fists: Successful hits apply a corrosive acid, dealing damage over time.
Power Drain: Successful hits reduce the opponent's Special Move bar.
Reconstruction: Provides Passive Health Regeneration in battle.
Steel Bulwark: Successful blocks reduce damage of opponent's Heavy Moves.
Show Stopper:​ Special Move cannot be blocked by opponent.
Swift Strikes: Light Attacks deal more damage.
"Note:Now, only 2 premium robots in each tiers can have abilities. And now there are only 2 abilities: Reconstruction & Show Stopper. Metro's ability is not Corrosive Fists anymore. Now is Reconstruction!"
Latest Updates:
4 New Robots are Rampaging your way this Halloween!
New Robots added for Halloween season: Danger Zone, Sarge, Shogun and Fiend.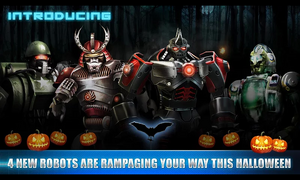 Rip off your opponents in the New Crypt Arena!
New Horror-Themed Arena added for Halloween. Destroy your opponent and bury it there.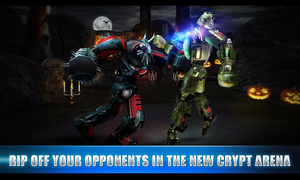 Previous Updates:
Cardinal Chaos Unleashed through the Mystery Draw!
​All new and exclusive robot! 'Cardinal Chaos; unleashed through the Mystery Draw!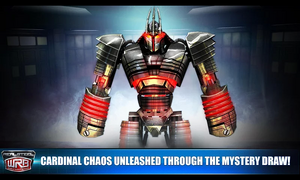 Showoff your All New Trophy Room!​
Trophy Room is now available! Collect trophy of every robot and every tier by beating the championship mode with every robot.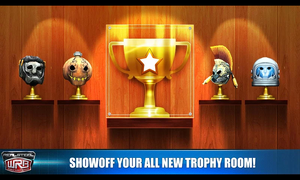 Coming Soon:
This is a new feature for the new update of Real Steel WRB. BYOR means Build Your Own Robot.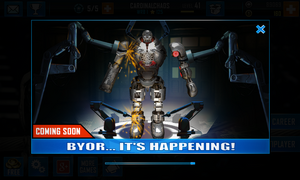 Featured robots
Edit
Underworld I
Underworld II

Aquabot  (playable after Facebook Robot Pass or after earning in Daily Award)
Sarge
Metro  (champion)

World Robot Boxing I
World Robot Boxing II
Exclusive Bot

Cardinal Chaos (playable only after unlocked through Mystery Draw, not allowed to fight against)
Paint Shop is now improved, better than before.
Blac Jac is not available in the Daily Awards
Blac Jac is the hardest bot to get.
Danger Zone, Sarge, Shogun and Fiend are added to the game.
Although the nicknames of the new 'bots aren't written, in their intro you can probably hear their nickname being called.
Chaos and Zeus are both names from mythology.
Atom and Zeus are the Fighting bots in this game that cannot have their limbs and head torn off after successfully performing a rip-off.
Zeus is the only Champion Bot that cannot be fought in the Sparring Mode. But He can only be fought in the Championship Mode.
Official Trailer
Edit