This page is owned by Simon Mizinkov,don't edit without permission.

TRASHER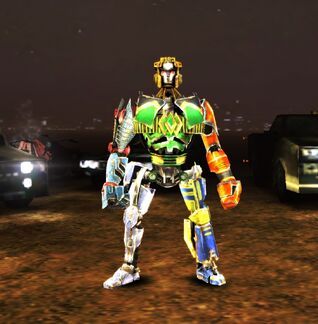 Handler:Simon Mizinkov
Title:The Circuit Breaker
Generation:3.1
Status:Sparring Bot
Bot Type: Lightning Bruiser Lv.3 (Now a Sparring Bot)
Announcers Quote:Here's the Circuit Breaker,TRASHER!!!!
Origin:Canada
Height:7,9
Weight:954lbs
Special Feature:Leather Armor
Special Moves:You're Trash!,Finisher.
Rip-off:Circuit Break
STATS
Armor:70/100
Power:70/100
Speed:65/100
DESCRIPTION
Trasher is one of the best UW fighters. Now he is a Sparring Bot for Simons robots.
FIGHTS
Fight Conditions
G.C:Good Condition
H.B.U:Hardly Beaten Up
E.B.U:Extremely Beaten Up
C.D:Completely Demolished
Vs BlueBot WIN 1000$ G.C (CrashPalace)
Vs AquaBot WIN 1500$ G.C (CrashPalace)
Vs BlackTop WIN 2000$ G.C (Parking Lot)
Vs Midas WIN 60000$ H.B.U (CrashPalace)
Vs Bio War LOSS 0$ H.B.U (CrashPalace)
STORY
Soon.
Ad blocker interference detected!
Wikia is a free-to-use site that makes money from advertising. We have a modified experience for viewers using ad blockers

Wikia is not accessible if you've made further modifications. Remove the custom ad blocker rule(s) and the page will load as expected.