THIS IS A FANMADE ROBOT PAGE (MADE BY LITTLE-SPRINGTRAP). PLEASE DON'T EDIT.
Profile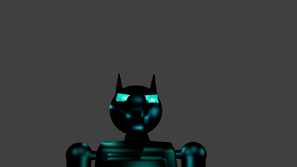 -Name: Void
-Origin: germany
-Signature move: Butterfly-Spin
-Title: The Night-Wolf
-Robot type: Demon Wall
-Generation: 1
-Armor: 70/100
-Power: 80/100
-Speed: 100/100
-Intelligence: 120/100
-Special: 95/100
-Overall: 465/500
-Handler: -Unknown-
-Height: 7'2" feet.
-Weight: 240LBS
Fights
Danger Zone: Win
Gridlock: Win
Twin Cities Gold: Win
Zeus: Lose, but survived
Cardinal Chaos: Win
Dreadlord: Lose
Dreadlord (Rematch): Win
Zeus (Rematch): Win, but lost half of right arm
After Repairing:
Axelrod: Win
Fat Boy: Win
Atom: Win
Aztec: Win
Scorpion: Win
Scarlette: Win
Major steel: Win
Atom (Rematch): Lose
Asura: Lose
Asura (Rematch): Win
Asura (Second Rematch): Win
Cosmobot: Win
Voids Death
Volcano circled around the ring like a vulture, spying on its prey. Void was doing the same. Finally, Volcano came in with an uppercut. Void was stunned by the attack, but very little. Void came in with a combo of a hook-jab-hook, and it did damage to Volcano. Then, out of no where, Void ripped off Volxano's right arm. People betting on Volcano were angry. Raymond was too. In retaliation, Raymond did a Flare Blitz to Void. It cut off Void's voice command system.void didn't work anymore. voids owner activated the shadow mode, but volcano jumped in front of void, so void cant see his owner, and just stand in the ring. Then volcano makes a Left-Right-Left-Left punch combo. then volcano makes a heavy uppercut and just in the same second a very heavy punch at voids face. voids head got ripped off. Voids owner ran into the crowd to save voids head. then voids owner said to volcanos owner: "Congratulation, you win! But in a few Months, if i have a better bot, i wan't a Rematch.
Then Voids owner build Snowwolf.
Ad blocker interference detected!
Wikia is a free-to-use site that makes money from advertising. We have a modified experience for viewers using ad blockers

Wikia is not accessible if you've made further modifications. Remove the custom ad blocker rule(s) and the page will load as expected.